Mike's Professional Wedding DJ Service
Experienced Dependable Respectful
Metro Detroit Wedding DJ for Southeast Michigan +
30 Years of Wedding DJ Experience, Everything is Done Your Way.
No Hidden Information! Scroll down or jump to...
To instantly see if Mike is available, click → Mike's DJ Schedule
Dates already booked and commitments are posted on his schedule page.
For Serious Inquiries and Personal Reply,
use Check Your Date below.
Supply basic event information and your e-mail address.
---
Intro and Overview


Mike is a Mobile DJ and he's very good at it. You become his V.I.P. and will do want you want.

He hooks up TWO Laptops with Professional MP3 Mixing Software and a dual cd player. That means No Pauses Between Songs, no dead air, no down time. If a laptop should ever have a problem, he keeps on playing! You get an extra laptop and dual cd player ready at all times for instant music playing back-up. You hire a DJ for music, Mike makes sure you have it.

Mike books only ONE event per day, which means that you get peace of mind. No potential over-bookings or double-bookings. YOU are Number One for that day.

Based in the center of Metro Detroit (City of Southfield), his DJ Service is available for the greater Metro Detroit area including Oakland County, Macomb County, Wayne County, Ann Arbor area, Downriver, all southeast Michigan, and other areas in the lower peninsula.

Mike is a Professional Mobile Michigan Disc Jockey and member of…
National Association of Mobile Entertainers N.A.M.E.
WeDJ.com – the number one site to find Mobile DJs.
plus other disc jockey, wedding, music and civic minded organizations.

In 2007, 2008, 2009, 2010, he was listed as a Top 10 Metro Detroit Wedding DJ at WDIV TV 4 The Best List. In 2011, he was added to the inaugural Detroit A-List of Best Services.

In 2012, Mike was voted into the new A-List Top 10 of all Wedding DJs in Metro Detroit. In 2013, He was again voted into the A-List Top 10 of Wedding DJs.

Weddings Are About the Bride & Groom – not the DJ

Mike appropriately refers to himself only as Michael or Mike in order to show respect for the importance of your lifetime moment and to give respect to your family, friends and guests in attendance. Music Slavin Mike – Your Musical Slave is the catchy name of his business and is used primarily for his Music and Entertainment Information Service and for public events, not mentioned nor advertised at weddings.

And because weddings are about the bride & groom, they can tell Mike what to play and what not to play. Hear music you like and avoid what you don't want.

Mike Is A Serious Wedding DJ
In his own words... "I understand the significance of getting married and sharing this moment with family and friends and know that your wedding will have emotions and memories that last a lifetime. That is why I take weddings very seriously and with a reputation for doing things right the first time. Since DJs can't practice being the DJ for your wedding ahead of time, it helps to have lots of experience in order to smoothly do what you want done at your wedding."

AND He created a website to let you know about as many wedding services in Michigan as possible, all types including other Wedding DJs. Only Mike does this. No DJ, wedding service, or anyone else gives you this information. More linked listings than The Knot, it's free, no logins! Info of Photographers, Photo Booths, Cakes, Officiants, Dance Bands, Cocktails Dinner Ceremony Musicians, Bridal Shows, Event Planners and much more. click → Michigan Wedding Slavin The Website

From elegant sophisticated tuxedo receptions to a celebration in the back forty, he is a versatile disc jockey who can present himself and the music of your choice exactly the way you prefer. You know what you want and it's Mike's job to make it happen.

Mike is middle-aged, has been the DJ for hundreds of weddings – not a kid still learning.

Mike always shows respect, decency and common courtesy, never vulgar.

How far in advance do you need to book Mike? Honest answer is in → Mike's Booking Policy

Demo Video
Mike does not have a demonstration or promo video. Since he lowered his wedding prices 4 years ago in order to help those getting married during current economic downturn in Michigan, he cannot afford to hire a professional video service to have a demo video made showing him on-the-job.


Want to watch/observe Mike on-the-job? → read this

Never Booked a DJ? Need honest info? read Mike's in-depth → How To Choose and Hire a DJ


If Mike is not available for your wedding, would you like him to recommend a DJ? click here
He does not receive kick-backs, commissions nor referral fees from his recommendations.

note: Mike was also known as Madman Mike Your Musical Slave. Madman simply meant doing more for free, going above and beyond what is expected of your DJ.

Mike is on Facebook. click → Music Slavin Mike Your Musical Slave Facebook Page
---
Specifics

Professional Wedding DJ Service
• Mike is your DJ, not a surprise trainee or subcontracted fill-in.
• Mike does NOT invite strangers (observers) to your reception.
• Flat Rates (prices) – No Hidden Costs, no per hour charges, no time limit.
Lights and most everything DJ related is already included in his prices.
• Wireless hand-held microphone is automatically included, no extra charge.
• DJ Equipment is set up before guests arrive, included, no charge.
• He brings an assistant to help coordinate and be back-up DJ, no charge.
• Back-up DJ Equipment including music players is at your reception.
• Mike owns and uses professional DJ Equipment, shown lower on this page.
• Music Volume: your choice. (usually easy to talk over low to start, higher for dancing).
• Reception music - your choice. It's your day – hear music you like.
• If Mike doesn't have your songs, he will get them at no charge to you.
• Mike coordinates with photographers videographers so they don't miss getting pictures and videos of important moments.
• DJ Entertainment Style: Sophisticated to interactive: see styles
• If needed, Mike can MC. He is good at announcements and introductions.
• DJ Attire: your choice. It's black tux unless suit or other is requested.
• Mike has DJ Liability insurance, a necessity just to work at some venues.
• Mike has experience at many reception venues: see list on separate page
• Mike does not advertise: no signs, no flyers, no business cards on tables.
• If needed, Mike can help you organize special moments at reception.
• Mike is available for meetings before wedding to go over details.
• Mike owns and uses dependable DJ transportation, shown lower on page.
• He keeps the reception focused on the bride & groom, not himself.
• Good when dealing with people. Always nice and polite.
• Mike never bothers your guests.
---
DJ Equipment Mike uses at wedding receptions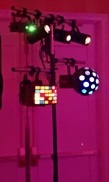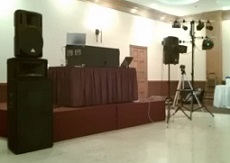 Mike's DJ Set Up is a Full Professional DJ System, not simply one laptop with two small speakers that some DJs use. Plus... Mike owns and brings additional back-up DJ equipment to your wedding.
Mike's Professional DJ System (also known as commercial equipment) includes two laptops with professional mp3 mixing software. Plus a Dual CD player, Numark mixing board, amps, Peavey and Behringer speakers, Shure 58 wireless handheld microphone, multi-colored rotating atmosphere type Lights for dancing, and more.
Below is Mike's full size DJ Van: clean, no advertising, no markings.

---
Styles



You Can Tell Mike How To DJ Your Wedding!

When hiring a DJ for the first time, most people are not aware that they can tell their DJ how to present themselves and their music entertainment. Therefore, Mike explains the three basic styles and a way to express them to any Wedding DJ you might hire.

• Pleasant and Nice. The Normal Wedding DJ style.
Smile, do introductions and announcements, occasionally say nice things. Talking is done in a positive "today is your special day" type voice. Don't be boring, everything done in good taste, nothing cheesy. This style offers the most flexibility during a reception. Your DJ will be able to play more song requests from the bride & groom, wedding party, plus family and guests.

You could also call Pleasant and Nice the most preferred and Play It Safe style - having your DJ be likeable and lessening the chance your DJ would appear obnoxious or offend people.

• Strictly Sophisticated. The Low Profile mostly just play music style.
Basically, no talking on the microphone except for planned introductions (if any) or required announcements (if any). If intro or announcements are required, it is done in a clear, monotone respectful voice. This style allows for strict time-lines and pre-formatted music programs.

• Interactive Party Style. The Bar Dance Club high energy style.
Dance music is the highest priority and designed to keep people on the dance floor. This usually means loud music, bright lights, and very few – if any – song requests from the bride & groom, family, wedding party and important guests get played. DJ actively motivates people for dancing & celebrating. MC voice is done in a very upbeat "this is the greatest day of your life, so everybody party!" type voice.


On A Related Side Note...


Sports Stadium style introductions for the Grand Entrance? Mike can do them but only when specifically instructed to do so by the bride & groom. Unless told otherwise, he does entrance introductions in a normal, clear voice.



---
Mike's Music
Variety Dance Music from today's top tunes to way back. Happy, Timber, Cupid Shuffle, Wobble and Casper Cha Cha Slide to In The Mood by Glenn Miller. Pitbull, Katy Perry, Lady Gaga, Beyoncé, Kid Rock, Flo Rida, Elvis, The Temptations, Toby Keith, Rascal Flatts, Journey, AC/DC, Bon Jovi, ...
Take a look at Mike's → Popular Dance Songs + Popular Slow Songs

His music is Updated Every Week using → PrimeCuts MP3 Pro DJ New Music Subscription Service


And he gets Legal MP3s from AmazonMP3, iTunes, and Rhapsody. Over 25 Million available songs.

Mike can suggest songs for a Father Daughter Dance.
click → Father-Daughter Dance Songs

If desired, Mike has standards: Michael Bublé, Frank Sinatra, Dean Martin, Nat King Cole, Louis Armstrong, Tony Bennett, Neil Diamond, James Taylor, etc.

If desired, Mike has jazz music for cocktails/dinner. Larry Norzero, Dave Matthews, Rick Braun, The Rippingtons, Stan Getz, Miles Davis, Joe Henderson, Diana Krall, etc.

Mike has classical music for cocktails/dinner but strongly recommends against it. Unlike using headphones or Live musicians who keep their sound at an even level, when DJs play classical through a P.A. system there is an extreme high-low effect. When DJs set the sound level so the loud parts don't get too loud, the lows usually get so low that you can't hear it which then creates a lot of "dead air" moments even though the music is playing.

If desired, Mike also has Polkas: Big Daddy Lackowski, Misty Blues, Frank Yankovic, etc.




Most Requested Ceremony Music in Mike's collection
Bridal Chorus (Here Comes The Bride – Wagner, instrumental)
Wedding March / Recessional (Mendelssohn, instrumental)
Canon In D (Pachelbel)
Jesu, Joy of Man's Desiring (Bach)




---
Wedding DJ Prices and Deposits
These Prices Apply To the METRO DETROIT AREA.
Other areas in lower peninsula may cost more, depends on travel distance, cost of gas.
Flat Rates (one price) → no per-hour charges, no hidden costs, any amount of time. Example: 4 hours and 7 hours have same price. explanation
Deposits are Not Refundable, with one exception.
Exception: if you cancel but date is re-booked, deposit is refunded.
Deposits are SUBTRACTED from total price.
Balance - price minus deposit - to be paid at Beginning of your reception.
That's Mike's PEACE OF MIND FACTOR: you are NOT asked to pay in full before your reception!
Friday or Saturday
Price: $750
Deposit: $300
Balance: $450 is to be paid at beginning of reception.
Sunday through Thursday
Price: $500
Deposit: $200
Balance: $300 is to be paid at beginning of reception.
Sunday through Thursday on a ˃ Federal Holiday
such as Memorial Day, July 4th, Labor Day, Thanksgiving, etc.
Price: $650
Deposit: $250
Balance: $400 is to be paid at beginning of reception.
New Year's Eve (no matter what day of the week)
Price: $1,100
Deposit: $400
Balance: $700 is to be paid at beginning of reception.
Mike does not supply music for a Ceremony when it is not at same place as reception.
Supplying music for Ceremony at same place as reception: usually no extra charge.
Serving Our Country $100 Military Discount
Mike's way of saying Thank You for serving. If you are a current service member or a veteran, you can subtract this discount from prices posted above. Discount applies to those getting married and also to those who are paying Mike to DJ a family member's wedding.
Potential Additional Costs to prices posted above.
1. Gas Charge if event is not in southeast Michigan.
2. Carrying DJ Equipment Up/Down flight(s) of stairs, NO Elevator available.
3. Sound System for groups of 400 or more people.
4. Outdoors with No Shelter. In case of bad weather, Mike has to supply his own shelter to protect his DJ equipment
5. Loading Docks that are wall-only, no ramps/elevators (example: Detroit Marriott at the Renaissance Center).
No extra charge for Security Check Points and getting my vehicle x-rayed – sometimes there is a line, takes a while to get through. Since Mike has no per-hour charges, there would be no charge for arriving extra early to handle additional time for security verification.
---
Compare
Mike does have DJ Liability Insurance.
And he is a member of National Association of Mobile Entertainers (N.A.M.E)
Michigan Wedding DJs – How Does Mike's DJ Service Compare?
Most of the time – very favorably.

Some of Mike's colleagues recommend you spend about $1,200 or more. The ADJA American Disc Jockey Association says: "Rates for the DJ industry vary greatly, ranging from $350 to over $5,000 with an average of $1,200 for a 4 hour booking. The best price is not always the best deal, especially if you are planning a wedding."

National Association of Mobile Entertainers is an association of verified professional entertainers, including DJs. ADJA is a self promoting in-house referrals dj association. Info supplied by them is strictly limited to their sales pitch. That's why Mike belongs to N.A.M.E. and not the ADJA.

How does Mike compare to ADJA DJs in Michigan and other local higher priced DJ Services? Let's compare the most important points.

1. Being a DJ is Mike's job. Most DJs make a living from a different line of work, becoming weekend music players for extra income. When being a DJ is your main line of work, you have incentive to do a better job than most. Give Mike the edge.

2. Mike books only one event per-day which makes you the most important person in his world on the day of your event. You are not one of many bookings on a given day, you are exclusively Mike's #1 VIP on your day. Give Mike the edge.

3. Mike hooks up TWO Laptops with Professional DJ MP3 Mixing Software plus a Dual CD Player, all ready at the same time, making triple sure you will have your favorite music instantly available at all times. In this comparison, Mike compares very favorably to - or is actually better prepared than - many higher priced DJs who take chances having just one laptop to play your music. Mike has double instant music plaing back-up.

4. Mike usually charges $750 Total in Metro Detroit area. The ADJA and some other Michigan DJ Services want you to pay a lot more than that.

4a. Mike gives a flat rate (one price), which means no hidden costs, no per-hour charges, any amount of time and everything DJ related automatically included. No charge for pre-wedding meetings or unexpected extra time at a reception. No guessing what your final price will be. A favorable comparison!

5. Mike is your on-the-job DJ for weddings. When you book Mike, you get Mike. That means he doesn't sell bookings - which is just another way of saying subcontract them or farm them out to underlings or other services.

6. Mike has more wedding experience than most DJs at high profile DJ Companies. Plus he owns his own DJ equipment, transportation, and large growing music library. He can meet before your wedding, and provides you with more no hidden information on this website than they do on theirs. Again, give Mike the edge.

7. If you need a dance instructor or dancers, or massive club style bright lighting, or a production crew, or karaoke service with external monitor and extra microphones in addition to a complete Professional DJ Service at your reception, then higher priced services or Entertainment Companies are your best choice. Higher priced wins this comparison, and deservedly so.

Other Important Points


Because Mike only books one event per-day he is not in competition with any other DJ Service. If he is not available or not the right DJ for you, he freely recommends other DJs and DJ Services. click → recommendations. Do other DJ Services offer this to you? Again, give Mike the edge.

Mike is the only person (and DJ Service) that lists as many DJs in Michigan as possible. He gives free linked listings to all DJ Services who want to be listed. If you want to see his large list, click → List of Michigan DJs

If you want to pay Mike the same as some higher priced DJs, he will accept it. But if you appreciate a good deal, stay with his posted prices and enjoy your savings.

Now you know why Mike is the only one who has earned being known as Your Musical Slave.





Observers – Watching Mike On-The-Job

You cannot watch Mike at another person's private wedding. Watch him only at public events.

MIKE DOES NOT BRING OBSERVERS TO WEDDINGS.
Mike does not invite strangers (observers) to weddings because he considers it improper to have uninvited strangers attending other people's private affairs. Example: would you be willing to have all uninvited strangers who want to observe Mike attend your wedding? Of course not. People who hire Mike expect him to work for them, respect their privacy and not use their private moments as public auditions.

He firmly believes that your wedding is private. Only the people you invite should be there. It's just that simple. He's sure that you would expect that same consideration from any DJ you might hire.

But some DJ services do allow strangers, usually called observers or watchers – people you don't know, the DJs don't know, were not invited by you, but invited by the DJs to watch them work at private events. By bringing observers, they are using your private wedding as a public audition.

If comparing DJ services and want to include those that allow observers watchers, Mike has important legal advice for you → click here. After learning how to protect yourself regarding observers, click your Back button to return to this page.

If you want to see Mike on-the-job, it will have to be at a public allowed event. To find out if he will be working an event where the public is invited, keep an eye on → Mike's Public Schedule


Additional comparisons and information pages that might be helpful...

• How To Hire a Wedding DJ – article includes a list of questions to ask DJs.
• Questions To Ask when Interviewing a mobile DJ
• How to Choose Your Wedding DJ
• Meet/Choose Your DJ Before Booking at multiple DJ Company? – Not Always. see faq #10.
• Wedding DJ Rates – 4 Price Ranges Guideline – Metro Detroit and Michigan
• Honest Advice about Wedding DJ Rates in General
• Mike's Links to Mobile DJs in Michigan – over 130!






MIKE'S BOOKING POLICY

How Far In Advance Do You Need To Book Mike?

Impossible to say. Why? Someone might have just booked your event date while you were reading this. Or it might be available up to your wedding day.

Therefore...

It is The First Person To Supply A Deposit, Books Him policy. Mike does not use the marketing gimmick of saying that you better book now because many people are looking at your date. Even when true, it sounds like a tacky high pressure sales pitch. Mike is one of the good guys, he doesn't need nor use a sales pitch.

Take a look at his up-to-date posted schedule. If your date is not listed, take your time and compare DJ Services. If including Mike in those you are considering, use the Check Your Date box on schedule page or top of this page to receive a personal email reply.

If you want to book Mike, check his schedule page again to see if he is still available. If you already used Check Your Date, simply reply to his personal email or call him and state that you have the deposit ready and want to book him. If you haven't used it, use it now.







INFORMATION ON MIKE'S SITE
---