Events Entertainment Music in Michigan
Madman Mike Music Enthusiast features info and links to music festivals events concerts, general popular events, bands musicians djs karaoke, recording studios, music stores, music services, find entertainers, and similar based in Michigan information. Use column on the left.
"Don't get frustrated with sites that make you login, join, or just have a small amount of info. My site features quick access to a huge and expanding wealth of local music, entertainment and events information for Michigan including lots for the metro Detroit area."

Bands musicians entertainers come together annually in Metro Detroit, Michigan, to perform at
Music Fest 4 Vets Music Festival
,
Proceeds go to Veterans in need
. click →
MusicFest4Vets.org
+
facebook
Mike Loves People and Music - Together At The Same Time!
In Mike's own words...
"Music is my passion. Experiencing it, finding those who create it, perform it, fine tune it, carry it, present it, promote it, fans and others involved with it. I've been listing and updating information on this site since 1999. And I give you free access to all this knowledge."
"Like" Mike on Facebook! click → Madman Mike Music Slave Facebook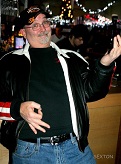 Michigan Bands Musicians DJs Entertainment
Mike links you to an amazing amount of Michigan Music Services and Entertainment Information! From lists of Michigan Music Artists to Recording Studios, music stores, music events and more. Also general popular events such as big festivals, fairs, celebrations, car cruises, shows, Halloween Haunted Houses and Attractions, and more.
If you know of a music service, entertainment or entertainer in Michigan who is not listed on this site and already has their own website or web page, Mike will be glad to add their listing at no charge. Anyone can send their info to Mike → click here
Find All Types of Performing Entertainment
Mike's Find All Types of Entertainers In Michigan page is the numer one resource anywhere on the internet to help you find – or get – almost any type of entertainer available in Michigan. In addition to individual listings on this site, Mike puts you in touch with full service entertainment companies that supply show bands, national recording artists, djs, dancers, magicians, comedians, impersonators, circus style, dinner mysteries, marquee speakers and more. click here
Check out his list of national Song Contests and Music Competiions, list of Indie Artists Resources and other info.
To contact Mike by e-mail, go to → Message For Mike page
note: due to spammers, that contact e-mail address changes frequently.
Official Website of Madman Mike Music Enthusiast
Mike wants to be of help to the people of Michigan, the U.S. and beyond.